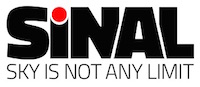 Sky Is Not Any Limit
with a little help from SINAL
We are consulting agency, led by Konrad Wiśniewski, manager experienced in new media, having proven track record of success within the biggest Polish media companies.
Our activities:
audits and evaluations (organizations, products, websites),
strategic consulting, problem solving, solutions finding, standards setting, trainings.
Working in co-operation with a lot of new media related workers, such as developers, graphic designers, editors, marketers and SEO specialists, we can implement everything based on our consultancy or provide employees directly to the Client.
Client list including public institutions, media companies, NGOs, advertising agencies (subcontracting), startups.